Interior of the Tiny Cottage Rental in Berkeley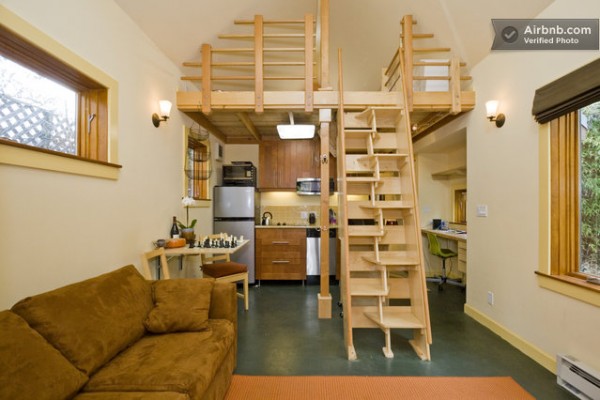 I love the staircase/ladder that takes you to the loft. It's really unique and seems easy and safe to use. And it doesn't take up too much space.
Notice the side storage up there in the loft.
Desk/Work Area
Living Area
Kitchen/Dining
Kitchen Storage Behind Ladder to Loft
Bathroom
"This brand-new cottage, conveniently located near the posh 4th Street shopping district, the North Berkeley BART station, and waterfront trails, offers seclusion and beauty while providing all the comforts of home. Winner of an Eco Award from Diablo Magazine due to its energy-efficient design, the cottage has garnered international media attention as an example of the Tiny House Movement and a model for smart growth development in older low-density neighborhoods.
This solar-powered cottage provides a full kitchen and bath and sleeps up to four (two in sleeping loft, two on sofabed). We provide wireless internet, bedding (organic mattress provided), and kitchen necessities. Laundry is available, as is extra storage space (including secure bike parking). (A crib is available too.) There's a microwave, a convection oven, and a gas grill, and in season, fresh vegetables from the garden and fruit from the trees. Street parking is always available, and the University Avenue exit from 80 is just 6 blocks away. We are 3/4 mile from BART, two blocks from AC Transit 72, 51, and 52 lines, and on both N-S and E-W bike routes. Stores within walking distance provide all your needs. And the cottage itself is tranquil and secluded from the street." (source)
Facebook Comments
comments