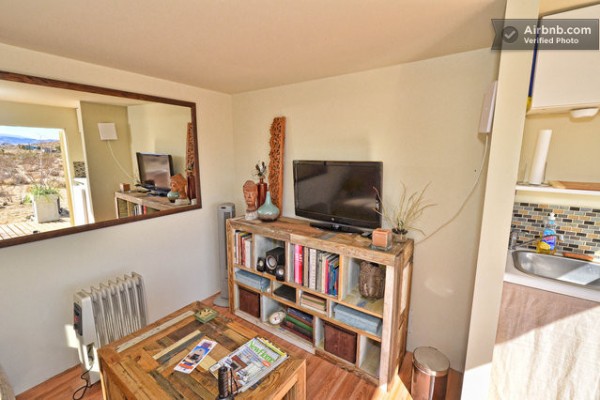 "Original two story barn style studio in Joshua Tree, CA. offers guests a new idea in living. Our modest studio is fully converted to accommodate a unique retreat for two. Open the barn style doors and enter the main living space which is tastefully furnished with comfortable down sofa, coffee table, entertainment center with flat screen TV , DVD player and smart phone stereo for your personal play list, galley kitchen with refrigerator, sink, dishes and small appliances for use, and beautiful views from the front deck. Upstairs is a sleeper loft with full size bed (sleeps two), complete with air conditioning/heating. linens and towels. Beautifully painted ceiling adorned with butterflies and skylight make for a beautiful wake up. Within short walking distance we offer a unique and fully equipped enclosed bathhouse with flagstone floor and hot water in shower and sink. At 3,000 feet elevation, the studio offers beautiful views of Joshua Tree National Park, mountains and sunsets. You may spend your day hiking, rock climbing or just relaxing, enjoying a sound bath at the Integratron or any of the other outdoor activities the valley and Joshua Tree National Park are known for. Star gaze and relax around the fire pit in the evening in this one of a kind retreat." (Source)
For more photos and booking info go here.
And if you liked this you'll love our free daily tiny house newsletter!
Facebook Comments
comments