Ladder to Loft in Pyramid Cabin
Downstairs Bedroom
Dining Table
Notice the closet it near the corner.
Kitchenette
Bathroom in the Micro Pyramid Cabin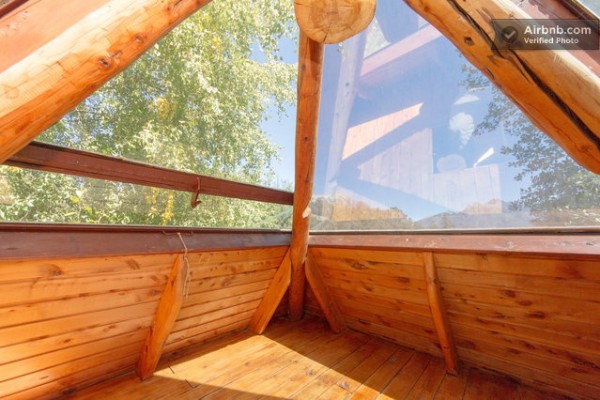 Exterior of the Pyramid Tiny House
I thought you might also like this pyramid shaped micro cabin in Argentina. I ran into it on Airbnb.com because I'm always on there looking for unique cabins and tiny houses that we can rent.
I think that vacationing in tiny homes is one of the best ways learn how to design the perfect one in the future. It's also a great way to figure out what size house works best for you.
Pyramid Cabin Gives You Better Views?
I like how the shape of the cabin ends up giving you better views because of the angle of the structure. This gives you a better view of the sky, stars and in this case view of the mountains.
How can we make it better? I guess you could put it on stilts and wrap the cabin around a deck/balcony. You might even be able to park your car underneath it.
How to Book your Stay in it
Check availability, learn more about the location in Argentina and book your stay in the Pyramid Cabin here.
Join our Free Daily Tiny House Newsletter
If you liked this cabin you'll love our free daily tiny house newsletter!
Facebook Comments
comments