From the front and near the entrance, doesn't it sort of resemble a hobbit home? I think it's because of the curved door and entryway. I really like it, how about you?
It actually looks huge from this angle, doesn't it?
Wow, look at all of those windows and the outdoor space on the other side of the home. Beautiful!
Incredible how the grill is built right into the rocks which blend right into the siding of the house. You don't see this very often.
This home is jaw-dropping, isn't it?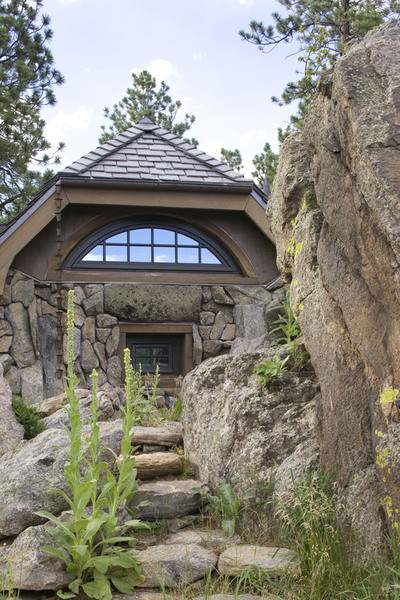 Let's go inside…
Look at the classic wood floors, furniture, exposed beams, and of course, the sophisticated and very lovely cat.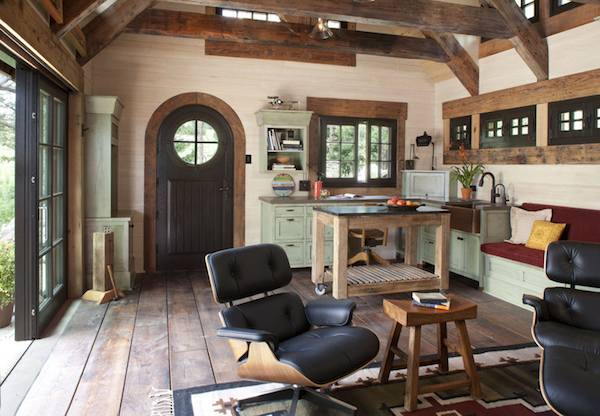 Custom murphy-style fold-away bed. It fits the room and ceiling height perfectly.
Dedicated area to work, study, plan, etc.
The bathroom has a round window that gives it lots of character.
And yes… There's a loft!
Images: TKP Architects / Emily Minton Redfield
Big thanks to one of our readers Spencer for sending this small mountain cottage by TKP Architects in. Not tiny, but still small, and absolutely gorgeous. At just 450 square feet, I'm amazed at what they were able to do with this.
Architecture and Interior Design by TKP Architects
Construction by Old Greenwich Builders
Related
If you enjoyed this amazing 450 sq. ft. cottage you'll love our free daily tiny house newsletter with more!
Facebook Comments
comments