Bed & Couch
Kitchen and Staircase from Loft
Homebox 1 Being Installed After Move
Kitchen with Simple Gravity Water System
Convertible Furniture & Sofa
Pull Out Dining Table and Front Porch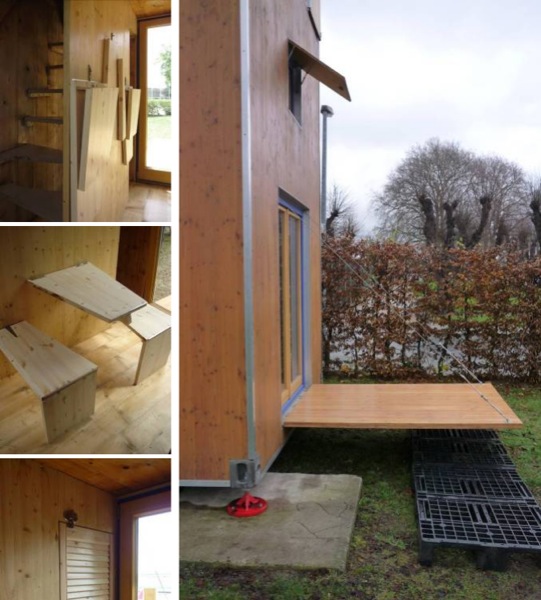 Floor Plan / Drawings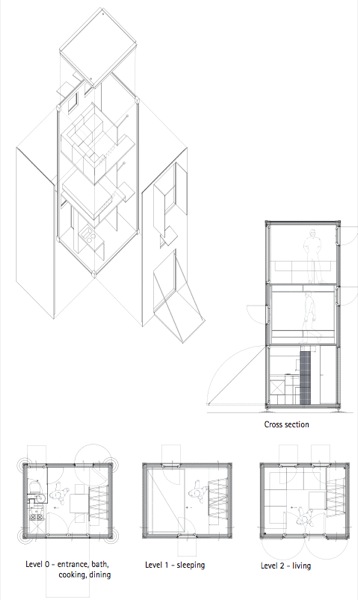 "In the size of an internationally standardized freight container a wooden container has been developed with different variants for residential uses. The box can be shipped around the world and placed with standard lifting and transport systems for containers." (source)
This tiny house is designed to be movable so it can be placed just about anywhere as long as you can get to and from there. Another idea for these structures is to use them in groups to create permanent or temporary container villages.
So they can be used in disaster situations. But they can also be used to house students, workers and folks in desperate need of housing throughout the world.
The company decided to create a wooden container versus using recycled steel because of repair and maintenance reasons. When asked why a wooden container, here's what the organization had to say, "Steel containers are used worldwide. But wear, repair and maintenance of steel materials are more costly (in terms of purchasing costs, welding, etc.) than for wooden materials."
They continue by saying, "Wood structures can be repaired cheaper and easier." In addition, "Living in a wooden home is healthier and more comfortable than one made of steel."
What are your thoughts on this wooden container tiny house? Please share in the comments below.
Learn more about the Homebox 1 here and here. And you can visit the architect here.
If you enjoyed this mobile wooden container home you'll love our free daily tiny house newsletter!
Facebook Comments
comments